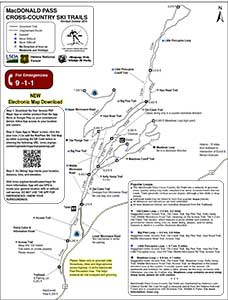 An updated, georeferenced PDF map of the MacDonald Pass trails was released before the 2016-17 ski season. You can use it either as a traditional paper map, or with a mobile app on your smartphone. Both options are free. Here's how:
Paper — Download the map and print it, and carry the paper map as you ski the Mac Pass nordic trails.
Mobile App — To see where you are, how far you've skied, and how much you've climbed, get the Avenza Maps app and import the Mac Pass Ski Trails Map to your smartphone in four easy steps. The Avenza Maps app is (to quote their website) "… a powerful, award-winning offline map viewer with a connected in-app map store to find, purchase and download professionally created maps for a wide variety of uses."
On your smartphone, go to Avenza's Mobile Maps App webpage, choose to download from the Apple iOS App Store, Google Play, or Microsoft, and get the Avenza PDF Maps app.
Open the PDF Maps app. Allow the app to access your location and camera. The app will use GPS to locate your general location with or without cell service.
Go to the Maps screen, click the plus icon (+), and either scan the QR Code below or enter the following URL to import the MacDonald Pass Cross-Country Ski Trails Map ('macpassmap'):

lcnsc.org/wp-content/uploads/maps/macpassmap.pdf
Go skiing! The app will track your location, distance traveled, time spent skiing, and how much you've climbed and descended.
A word to the wise — It is possible, even with this map, to get turned around while you are skiing the Mac Pass ski trails. It is even easier to get lost if you are skiing off-trail. Keep an eye on the weather and your surroundings. Note the trail intersection numbers displayed at every trail junction and check them against this map. Knowing where you are enables you, in the event of an emergency, to find your way to the parking lot or where to summon help.